Velkommen til en gratis dagbok!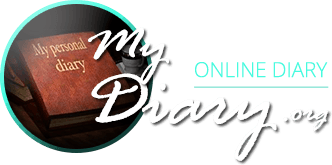 Alle kan ha en egen personlig dagbok eller journal på Internett - det er gratis på my-diary.org!
Vi tar vare på din dagbok på nettet gratis. Lag din egen dagbok på nettet i dag.
Vårt fokus er på sikkerhet og privatliv, og alle dagbøker er private som standard.
Lag din dagbok!
Writing a diary is a good way to make sure your memories and experiences stay alive. It lets you keep track and reflect on your past and learn from your mistakes. It can also be tremendously therapeutic. Not only to record fun and fun and adventurous moments, but also sad and scary times. It can be helpful to be able to document changes in your life.
Lonely boy..

1 Følgere
111 oppføringer
Hell On Earth

1 Følgere
24 oppføringer
The diary of a consensual slave

6 Følgere
31 oppføringer
Nonsensical Ramblings of a Girl

20 Følgere
321 oppføringer
Pen to Keyboard

4 Følgere
140 oppføringer
Long-term-experiment

9 Følgere
86 oppføringer