Selamat datang ke diari dalam talian PERCUMA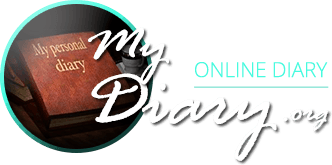 Semua orang boleh mempunyai diari atau jurnal peribadi milik mereka sendiri - Ia adalah percuma di my-diary.org!
Kami akan memaparkan diari dalam talian anda tanpa apa-apa kos. Teruskanlah dan bina diari umum atau peribadi anda sendiri hari ini.
Fokus kami adalah pada sekuriti dan privasi, dan diari-diari adalah peribadi secara lalai.
Cipta diari anda!
Writing a diary is a good way to make sure your memories and experiences stay alive. It lets you keep track and reflect on your past and learn from your mistakes. It can also be tremendously therapeutic. Not only to record fun and fun and adventurous moments, but also sad and scary times. It can be helpful to be able to document changes in your life.
Lonely boy..

1 Pengikut
111 entri-entri
Hell On Earth

1 Pengikut
24 entri-entri
The diary of a consensual slave

6 Pengikut
31 entri-entri
Nonsensical Ramblings of a Girl

20 Pengikut
321 entri-entri
Pen to Keyboard

4 Pengikut
140 entri-entri
Long-term-experiment

9 Pengikut
86 entri-entri