Bienvenue dans le journal en ligne GRATUIT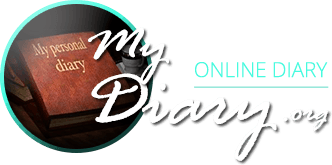 Tout le monde peut avoir son propre journal ou journal personnel sur Internet - c'est gratuit sur my-diary.org!
Nous allons héberger votre journal en ligne sans frais. Créez votre propre journal public ou privé dès aujourd'hui.
Nous mettons l'accent sur la sécurité et la confidentialité. Les journaux personnels sont privés par défaut.
Créez votre journal!
Writing a diary is a good way to make sure your memories and experiences stay alive. It lets you keep track and reflect on your past and learn from your mistakes. It can also be tremendously therapeutic. Not only to record fun and adventurous moments, but also sad and scary times. It can be helpful to be able to document changes in your life.