Welcome to the free online diary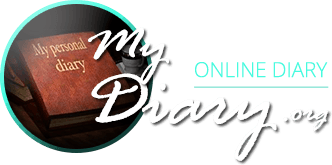 This is an online diary service, providing personal diaries and journals - it's free at my-diary.org! Our focus is on security and privacy, and all diaries are private by default. Go ahead and register your own public or private diary today.
Writing a daily record of your life is a good way to make sure your memories and experiences stay alive. It lets you keep track and reflect on your past and learn from your mistakes. It can also be tremendously therapeutic. Not only to record fun and adventurous moments, but also sad and scary times. It can be helpful to be able to document changes in your life in an online journal.

33 followers
944 entries
no name

19 followers
4810 entries
Where Pelicans Fly

2 followers
26 entries
kobra

24 followers
80 entries
kool tears and dreamz

3 followers
78 entries
Venting space

4 followers
28 entries
Insatiable?

41 followers
24244 entries
Maddie Penelope's World

0 followers
1 entries
demim-diari

58 followers
1034 entries
Ramblings, Stories, Fantasies

4 followers
34 entries
My weird crazy middle school life!

8 followers
94 entries
Pinwheels and Tangerines

0 followers
1 entries
This's diary