Welcome to the free online diary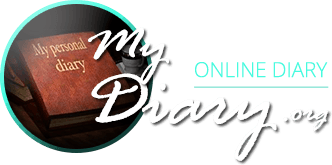 This is an online diary service, providing personal diaries and journals - it's free at my-diary.org! Our focus is on security and privacy, and all diaries are private by default. Go ahead and register your own public or private diary today.
Writing a daily record of your life is a good way to make sure your memories and experiences stay alive. It lets you keep track and reflect on your past and learn from your mistakes. It can also be tremendously therapeutic. Not only to record fun and adventurous moments, but also sad and scary times. It can be helpful to be able to document changes in your life in an online journal.

13 followers
213 entries
Esmeralda's Ramblings

5 followers
99 entries
Steph

2 followers
13 entries
luna choice

1 followers
2 entries
Extreme Ways

27 followers
316 entries
A southern life

2 followers
9 entries
ephemeral epiphanies

0 followers
3 entries
maya's diary

16 followers
202 entries
Dot. Dot. Dot.

2 followers
20 entries
Arizona

83 followers
289 entries
Scream Above the Sounds

4 followers
21 entries
The Violet Letter