Welkom bij het GRATIS online dagboek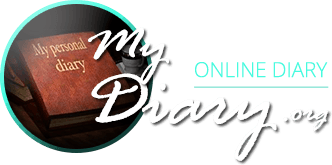 Dit is een online dagboekservice die persoonlijke dagboeken en dagboeken biedt - het is gratis op my-diary.org!
Onze focus ligt op veiligheid en privacy, en alle dagboeken zijn standaard privé. Ga je gang en registreer vandaag nog je eigen openbare of privédagboek.
Een dagboek bijhouden is een goede manier om ervoor te zorgen dat uw herinneringen en ervaringen levend blijven. Hiermee kunt u uw verleden bijhouden en erover nadenken en van uw fouten leren. Het kan ook enorm therapeutisch zijn. Niet alleen om leuke en avontuurlijke momenten vast te leggen, maar ook droevige en enge tijden. Het kan handig zijn om veranderingen in uw leven te kunnen documenteren

2 Volgers
16 inzendingen
wishbone

1 Volgers
31 inzendingen
overseer

6 Volgers
24 inzendingen
Discovering Me

2 Volgers
10 inzendingen
Story of a day…

80 Volgers
435 inzendingen
My life, the open book.

8 Volgers
107 inzendingen
Journal of Miss Journalism

2 Volgers
47 inzendingen
gg's diary

4 Volgers
61 inzendingen
:) here i am this is me

42 Volgers
493 inzendingen
live from the pinkroom