Bienvenido a la diario libre en línea.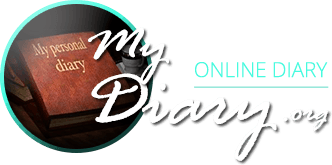 ¡Todos pueden tener su propio diario personal en Internet, es gratis en my-diary.org! Vamos a alojar su revista en línea sin costo alguno. Continúe y cree su propio diario público o privado hoy. Nuestro enfoque es la seguridad y privacidad, y los diarios son privados por defecto.
Crea tu diario!
Writing a diary is a good way to make sure your memories and experiences stay alive. It lets you keep track and reflect on your past and learn from your mistakes. It can also be tremendously therapeutic. Not only to record fun and fun and adventurous moments, but also sad and scary times. It can be helpful to be able to document changes in your life.
Kobe Daluz

0 Seguidores
3 entradas
just an average guy doing average stuffs

7 Seguidores
42 entradas
A Rebel Slave's Journey

3 Seguidores
83 entradas
A Pain Warrior's Battle Log

1 Seguidores
5 entradas
The Importance of Being Earnest...and Frank

25 Seguidores
360 entradas
Lonely boy..

1 Seguidores
111 entradas